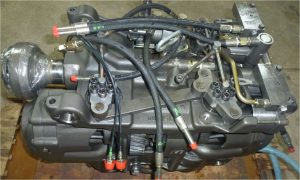 Gearbox Vario Repairer Fendt, JCB Fastrac and Massey ferguson, Our work is guaranteed
Repair, refurbishment, Gearbox Module Vario, Hydrostatic continuously variable transmission.
We work with all farm mechanics and concessionaires or with direct farmers and farm contractors.
know more about fendt vario gearbox reparation tractor
know more about JCB Fastrac vario gearbox tractor
HYDRO-TG probably is one of the very rare in France and in the world to repair this type of hydraulic gearbox VARIO, this hydraulic transmission is very complex and specific. the pressure in the hydraulic system rises to 550 bar, even at maximum speed.
The gearbox Vario transmission is the heart of every fendt tractor, the hydraulic fluid flows through the tractor's veins.
The 1995 Fendt Favorit 926 Vario was the world's first tractor with a continuously variable transmission.
it combines the efficiency of a fast gearshift with the benefits of a continuously variable transmission. the tractor that is travelling at precise speeds, uphill or downhill, backwards or forward, without jerks or loss of traction and without changing gears.

A revolution in the world of transmissions, no manufacturer has ever done better in terms of efficiency, dynamism, precision, comfort and smoothness. so the driver can concentrate only on field work.
FENDT's history is 80 years old, Tractor production begins in 1930,250,000 Fendt Vario transmissions produced in November 2016,20 years after the 1st tractor with Vario continuously variable transmission and produces 77 transmissions every day.
Fendt VarioDrive the continuous revolution with the 1000 series
This range offers a permanent variable power distribution to the four-wheel drive, thanks to the independent management of the front and rear axles, both of which are hydraulically powered.
The Fendt 1000 has a Vario gearbox and its new Fendt VarioDrive transmission has been named Machine of the Year.
We are repairer of Vario gearboxes Fendt, Massey Ferguson Dyna VT, also JCB Fastrac.
We are renovating the Dyna VT Vario Module Gearboxes, Hydrostatic continuously variable transmission.
This is exactly the same technology as the JCB Fastrac and FENDT agricultural tractors.
---
avis fendt 311, boite vario fendt, boite vario jcb, fendt 1000 vario, fendt 1000 vario fiche technique hydraulique, fendt 1000 vario fs13, fendt 210 vario, fendt 300 scr, fendt 300 vario scr, fendt 313 vario scr, fendt 711 vario, fendt vario 1050, fendt vario 410, fiche technique fendt 820, fiche technique tracteur fendt, fonctionnement boite vario fendt, hydraulique 1000 vario fendt, hydraulique 200 vario fendt, hydraulique 211 vario fendt, hydraulique avis fendt 311, hydraulique fendt 300 scr, schema boite vario fendt, transmision hydraulique vario fendt, transmission variation continue tracteur, transmission Vario, transmission vario fendt, variation continue, variation continue tracteur, vario fendt fonctionnement, vario fendt getriebe
---
JCB Fastrac
boite vario fastrac, boite vario jcb, Boite Vario JCB Fastrac, JCB Fastrac, jcb fastrac 4000 vario, jcb fastrac 4220 vario, JCB fastrac 8250 vario, JCB fastrac 8250 vario moc, jcb fastrac 8310 vario, jcb fastrac 8330 vario, jcb fastrac boite vario, JCB fastrac vario, jcb fastrac vitesse max vario, tracteur jcb fastrac vario